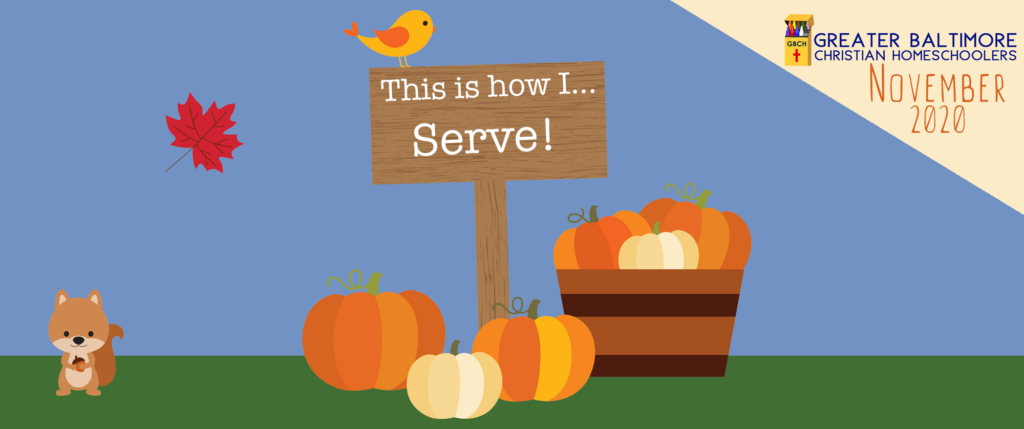 Happy November!
This month we will focus on the importance of serving and the many ways to serve. We will highlight community service providers, enjoy talks by guest speakers, and get creative with puppet making and baking.

No RSVP's are necessary for meetings, only special events. As a reminder, all events will happen at the same Zoom link. In addition, please take note of the group meeting start times. We will stagger the start times of the group meeting again this month.

Finally, we will prepare for the Kennedy Krieger Institute's Festival of Trees. The sale of this tree will benefit the programs at Kennedy Kreiger.

Stay involved and we look forward to your participation!!

Blessings,
Ja'Near Garrus
Director
November 9th: Group Meeting

Age Group: 3-5 | Starts at 1pm
Come dressed as a service provider! Students will learn the sign language for "service", watch and listen to an animated version of Last Stop on Market Street and show their sign language for service when they see any acts of service or service providers in the story.

Age Group: 6-9 | Starts at 1:40 pm
Come dressed as a service provider! Come prepared to tell or show the group the way(s) the service provider helps/serves others and state two ways they can personally serve others. They will select a service person/provider to whom they will write a thank you note.

Age Group: 10-14 | Starts at 1:40 pm
Bring a quote about service to the meeting and be able to share why you selected the quote and what it means to you. Other activities will include a service-related game and brainstorming and taking action on a community service project as a group.
November 16th: Centuries Club and Baking Experience
The group meeting will begin with Centuries Club, spotlighting the life and work of Edna Lewis, a famous African-American chef and author, noted for her farm to table southern cuisine.

Following Centuries Club's focus on Edna Lewis, children will participate in a virtual baking class led by Ms. Kimberly Asman, a dietician with Weis Markets. She will briefly discuss what it means to be a dietician and then guide the children through a 30-40 minute lesson on baking Edna Lewis' Apple Crisp dessert. 
November 23rd: Guest Speaker and Puppet Making Workshop

The Club Day meeting will start with a guest speaker, Dr. Tramaine P. McMullen, MPH.  She will discuss with the students: what is public health, how does it impact our society, how do public health scientists serve others, and the careers available in the field.  Students can ask questions during the last portion of the presentation.

Maker's Club: Puppet Making Workshop
The speaker will be followed by a puppeteering workshop.  During the workshop, students will make sock puppets and learn the elements of a story (ex: setting, characters, conflict).  If time permits, students will show their puppets and share a short story about their puppets.